"This is not just one room – there are lots more"
Showroom and workroom – Studio and gallery. Laboratory and playground. It exemplifies an area with various disciplines and categories. It is an inter-space between visual arts and design.
PITOUR_ARTISTA_IAMYOU_PLURAL_NI-LY
deutsch>>>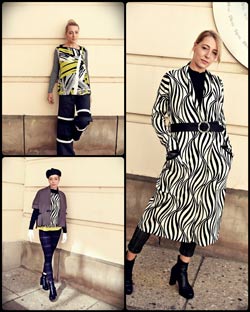 Pitour_
Since working with Helmut Lang while completing her studies at the Vienna College of Applied Art (Wiener Hochschule für Angewandte Kunst), Maria Oberfrank has been busy designing clothing, accessories and jewelry for city-wanderers who value purism and understatement as important aspects of fashion.
For those who want to maintain their tendency for panache and attach a touch of subdued luxury, modern chic and sufficient opulence to a purist appearance, they can find what they are looking for with Pitour. Experimental imaginativeness, employed in every detail as a central theme, produces genuinely eye-catching pieces, accessories and jewelry for men and women.
The collections from Pitour certainly also express a fair share of Savoir Vivre and character. It brings out the sophisticated details and cheery ensembles from the elaborate design process.

Pieces by Pitour are a combination of Central-European austerity interwoven with a thread of passion and exuberance…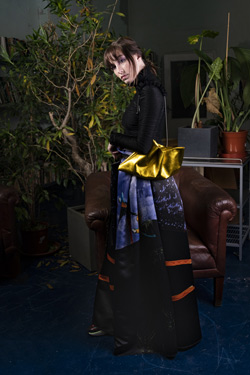 Artista_ The four designers of Artista established themselves as successes in the fashion scene in Budapest in 1994. While maintaining their success in the Hungarian capital, they have also understood, since the founding of the Combinat, how to capture the Viennese public with their very individual, if not emotional fashion concepts.
Alongside releasing seasonal collections and custom, one-of-a-kind pieces, the contributors to Artista have developed their expertise through many years of experience in various disciplines of styling, including costume work for films and television as well as organizing clothing and uniforms for major events. So don't be surprised when you recognize various Arista designs in video clips, TV ads, image films, etc…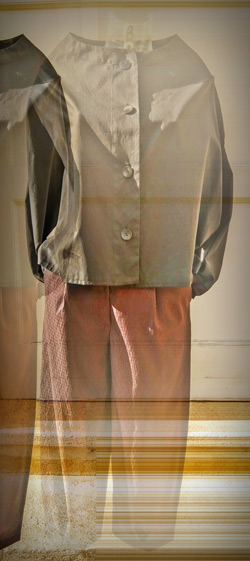 IAMYOU_
When fashion isn´t running, but resting
The Viennese label IAMYOU stands for puristic, androgynous fashion.
By the use of minimalist patterns and reduced use of colors within her collections IAMYOU brings into focus the dialectics of attitude and resistance.
Each garment represents a new and further variation of the same issue: the inquiry about the indispensable respectively superfluous aspect of fashion - irrespective of any trends regarding season, age and gender.
The experimentation with patterns and fabrics as well as the interaction and merging of "male" and "female" features make IAMYOU´s garments puristic and casual, unconventional and wearable at the same time - in a nutshell: self-confident and reduced to the essentials.
All the garments are sustainably and fair produced in Vienna.
.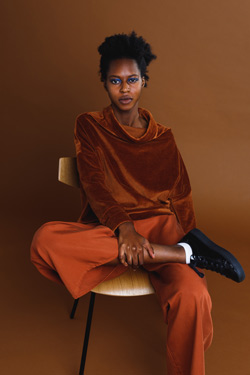 PLURAL_

PLURAL, founded by Magdalena Brunner in Graz, has been designing clothes and bags for the modern urban woman under the motto "Live fair and beautiful" since 2015. Each collection of Plural is dedicated to minimalism. Minimalism as a self-confident, liberating and enriching form language of our time. Minimalism is an aesthetic reduction to the essential - when forms, colours and geometries are reduced to the simplest, it can be perceived much more consciously and intensively. Plural designs purist fashion that is worn to make a statement for more minimalism in life, for more freedom and concentration on the essential. All Plural pieces are designed and produced in Austria, using primarily high-quality certified organic materials, natural materials and sustainably produced materials. Only non-animal materials such as cork, Piñatex® or paper are used for the bags.
PLURAL creates an urban timeless minimalist fashion with respect to our nature.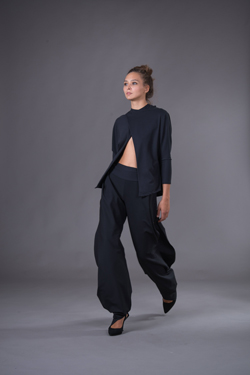 NI-LY _
NI-LY's style is effortlessly elegant and casual with a sporty touch.
Clear simple lines, geometric origami-inspired cuts, elements from
Eastern and Western culture combine to create unusual yet wearable and
modern everyday wear.
The abstract signature fabric pattern "Flying Cranes" is made by
airbrushing each piece from different angles.